Photo: Wendy Sporle. SunLive has chosen to blur the the above photo as it may be distressing to some people. The unblurred version can be seen further down in the story.
The deaths of two breeding kiwi who were an integral part of Kiwis for kiwi's strategy to grow the kiwi population has been a massive blow to the programme.
The two Coromandel brown kiwi were found dead at Port Charles on the Coromandel two months ago, but it is only now that the transmitters and straps have returned from DNA testing, that it has been confirmed dogs were the cause of death.
Lettecia Williams, chairperson for Moehau Environment Group, a non-profit volunteer kiwi and environmental conservation organisation on Northern Coromandel Peninsula, says the loss is devastating to the local community and to the wider kiwi conservation groups.
"We have worked so hard over the last 14 years to make our environment safe for kiwi to live and breed and the community has invested an enormous amount of time, energy and money into this project.
"These two adult birds would have lived to 50 years of age and contributed significantly to the kiwi population but now their lives have been cut short by a careless dog owner. It is heartbreaking and totally unacceptable."
The transmitters emit a 'mortality beep' when there is no movement from the kiwi, which is how the kiwi were recovered and confirmed predated.
Upon discovery of the two birds in April, it was evident one transmitter had been cut off and removed deliberately.
While the DNA testing confirmed a dog was the culprit, it unfortunately did not reveal the dog owner's identity.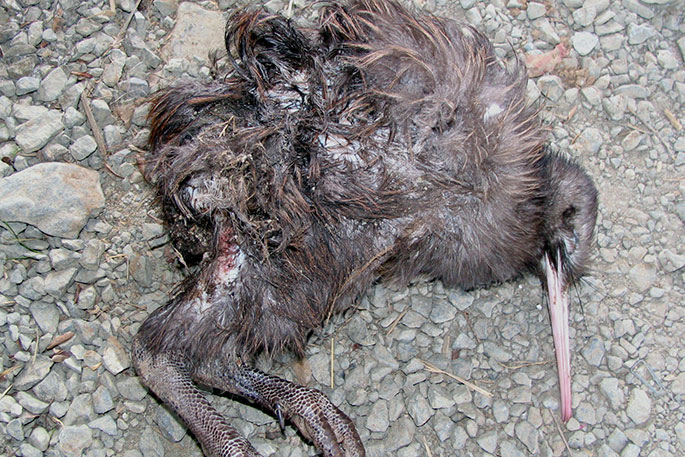 Kiwi for kiwi's Executive Director, Michelle Impey, says the impact of the loss of the two birds will be felt far and wide.
"These two kiwi were heroes of our new strategy and were destined for great things. Our goal to reverse the two per cent decline and increase the kiwi population by two per cent is based on creating a breeding population of kiwi on Motutapu Island, the kōhanga kiwi site for Coromandel brown kiwi.
"The offspring of these two were heading to Motutapu Island to play a major role in breeding future generations of kiwi.
"This was needless and irresponsible. Dogs should not be taken into kiwi zones, and most definitely not left to wander off lead. If a dog must be in the bush where there are kiwi, there is an option to have dogs kiwi-averse trained.
"Training is offered by various people around the country and we plead with dog owners to do this as an added precaution. Any dog, no matter what the size or breed has the potential to kill kiwi as they have a delicate bone structure.
"We know the dog has an owner as they removed the transmitter and we would now like that person or anyone who knows who they are, to get in touch with us."
Reported By:-