Shot put World Champ Tom Walsh demonstrates his technique to budding Tauranga Intermediate athletes. Photos: Chris James
Kiwi World Champion shot putter Tom Walsh is a determined man.
A burning desire to shut the doubters up was one of the prime motivations for his rise to the global heights of the sport, he told students at Tauranga Intermediate School yesterday.
"I was all right at shot put through school. I wasn't that focused on it, but I kept on getting better and better and there was this other New Zealander (Jacko Gill) who was beating me, and I wanted to beat him, so that was one big reason.
"And I love proving people wrong. People told me I couldn't do it so I did it."
The reigning World, World Indoor and Commonwealth Games champion was there to give a talk to the students and a demonstration of his athletic prowess, as the prize for the school's girl's football team winning the AIMS Games team photo competition.
He also took the chance to award to the school the trophy for topping the AIMS medal table, as a second purpose for his visit.
In the sunshine on the school field after the presentation he answered questions from a group of budding athletes about his motivation, training, and sporting experiences before conducting a brief clinic on shot put technique.
"I want to break the world record, I've got pretty close to it and I think in years to come I can do it. But also whenever I get to wear that black singlet it's pretty cool to know the whole country is behind me and supporting me to do well."
Remembering his own school years, he told the students about the wide range of sports he had a shot at, including rugby, cricket, athletics, hockey, and even croquet.
"I think it's important that kids play a lot of sports. I think these days a lot of kids get told to specialise too early. For me play as many sports as you can for as long as you can."
He soon worked out where his own strengths lay, he says.
"I wasn't all that great at running, I was better at throwing stuff."
It was a decision which took him to what he's in no doubt is his greatest sporting achievement so far.
"Winning last year's world champs in London. I tore my adductor the day before and didn't think I would be able to throw, but I managed to mentally conquer that, roll the dice and managed to win which was pretty cool because thought I wouldn't be able to throw at all."
Having put his other life as a part-time builder in Timaru to one side to devote himself fulltime to athletics, Tom has a clear agenda ahead of him. That includes not only breaking the world record but defending his world title, and ultimately trading up from the bronze he took at 2016's Rio de Janeiro Olympics to gold in Tokyo in two years – the Holy Grail in his field, he acknowledges.
"Yeah it is. It's probably the hardest one to get. I think if I throw the world record in the year of the Olympics I'd like to think I'd win the Olympics."
He'll still be keen to find time to fit in school visits though, he says.
"To come to schools and put smiles on kids' faces is pretty cool. I always remember me looking at my heroes, coming to school.
"I can remember just getting a photo or a high-five from them put me on a buzz for a day so hopefully if I can do the same to maybe even 10 percent of the school that would be pretty cool."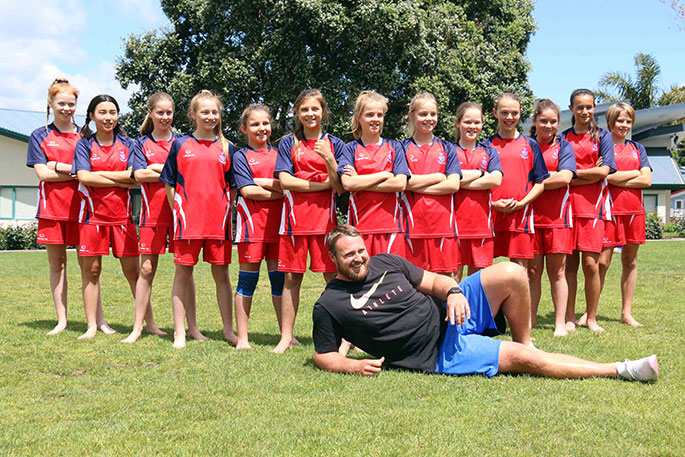 Tom took the chance to meet the school's AIMS Games team photo competition winning girl's football team.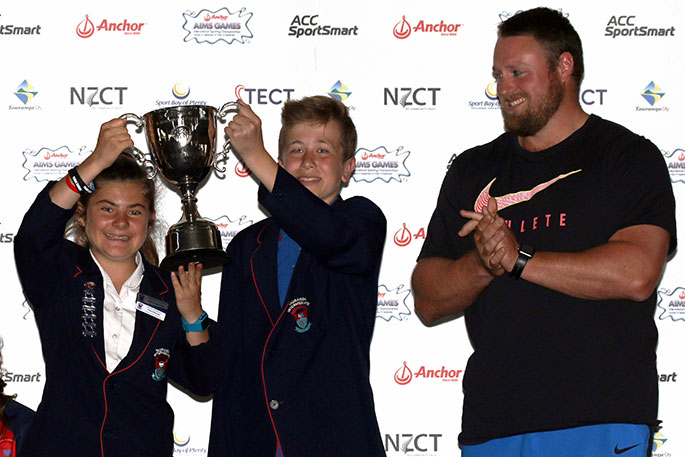 Tauranga Intermediate's Head Girl and Boy Sara Esterman and David Easther accept the trophy for topping the AIMS Games medal table on behalf of the school.
Reported By:-