A micro-tornado blasted across an Ashburton farm on Saturday afternoon.
A micro-tornado tipped up two irrigators and moved a mower as it blasted across an Ashburton farm.
Farmer Randal Hanrahan was working outside about 4pm and filmed the dust devil as it formed about 100 metres from him.
"I saw it go across the yard and it skirted the side of the house. It tipped up two irrigators and lifted a mower which was trailing a tractor. The power of it was phenomenal."
He said the dust devil was about 100m wide, picked up loose objects and flung them far away.
Five spans of one irrigator had been upended by the wind storm on the weekend and the span of another had been bent in half.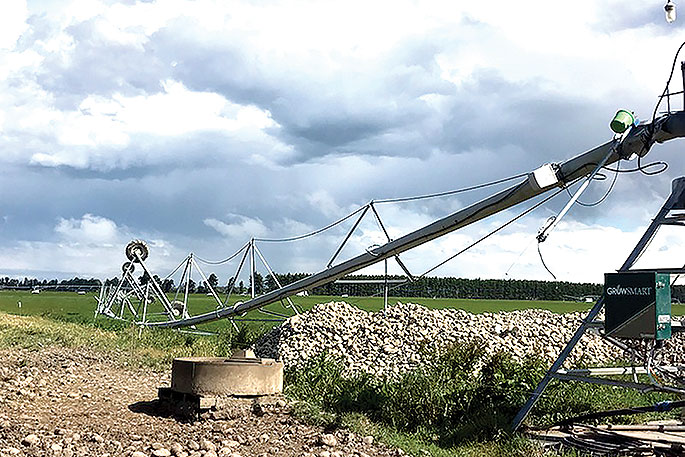 An irrigator was tipped over after a micro-tornado ripped through Randal Hanrahan's Ashburton farm.
The dust devil moved north on to a neighbouring farm before breaking up. Both properties are on the western side of State Highway 1, about 5 minutes north of Ashburton town.
Dust devils are swirling micro-tornadoes in specific weather circumstances. As the ground heats up, the rising air can create a vortex that picks up loose soil and whirls it into the air.
The dust devil, rain and hail yesterday signalled the arrival of a complex weather system forecast to move over the country over the next few days, bringing an extended period of wet and cold weather.
"Most people can expect to see some rain over the next few days," says MetService meteorologist Tui McInnes, "however, snow is surprisingly the main focus of this event."
Tui says snow was uncommon this late in the year.
Snow levels are set to lower significantly for the South Island, with a dusting even possible for Central Plateau.
"Cold temperatures associated with this weather system means we could see snow to 400m in Southland and 500m in Otago and Canterbury and there are a handful of severe weather warnings and watches in place, so this is certainly an event to stay up to date with."
MetService says the unstable air created prime conditions for hail showers.
- Ashburton Guardian
Reported By:-