US Ambassador Scott Brown speaking to the students and staff at Tauranga Intermediate School.
US Ambassador to New Zealand and Samoa Scott Brown paid a visit to Tauranga Intermediate School earlier this morning.
The students put on performances including performances from the Kapa Haka group, Hip Hop group, and school rock band.
Scott has been in New Zealand for 17 months, and hopes to stay longer should President of the United States Donald Trump get re-elected.
Scott says he didn't know much about New Zealand before coming here, but he says it was a good thing so he could learn more about our culture and customs.
"I wanted to come here not knowing much about New Zealand, so I could come with an opened mind and eyes.
"I wanted it to be an opportunity to learn and grow, so before I arrived I basically knew nothing apart from the Lord of the Rings, the Hobbit and the All Blacks."
When it was Scott's turn to speak and address the school, he introduced himself in te reo Maori, earning himself around of applause from students and staff.
He spoke to the students about his life growing up and how one bad decision could have changed his life path.
"Don't judge a book by its cover," says Scott.
"Make your family proud. Make your teachers proud. Live every single day as if it's your last," says Scott.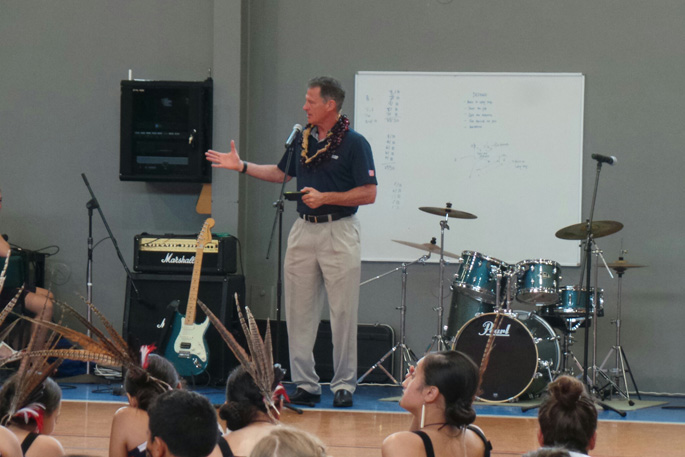 Scott also took questions from the students and was asked a range of questions from thoughts on New Zealand to what the food is like in America.
Reported By:-