Anna Brock. Image courtesy of Col / Surf2Surf.com.
It was a feast of micro grom action on the first day of the Billabong Grom Series presented by Oceanbridge event held at Whangamata on Saturday with conditions testing the fortitude of the surfers in the Under 14 Boys and Girls Divisions.

The surf remained contestable all day with a solid 1.0m – 1.5m of swell and moderate onshore winds.

With sixty surfers alone across the boys and girls divisions, they occupied the best part of seven hours of action as they were whittled their way down to the final four surfers in the girls division and eight surfers in the boys division.

Sophia Brock (Mnt) surfed to the highest heat total in the girls division on her way to the final with a 12.33 point heat total. A slick 8.5 point ride for a cleanly-surfed lefthander in the semifinals saw her top event one winner, Asia Braithwaite (Gis), who advanced in second place.

In the second semifinal it was Brock's older sister Anna who advanced out of a low scoring heat with a 6.77 point heat total which was enough to win her heat over Amanda Gouldsbury (Tara) who advanced to her first ever national final in the division.

Whangarei's Tai Erceg – Gray continued his good summer form on day one of the event. After winning the first leg of the series at Mount Maunganui, he kept his hopes alive for back-to-back wins today advancing through to the semifinals posting an 11.0 point heat total. Erceg - Gray had a close tussle but got the nod over Bill Byers (Piha) in his quarterfinal with the two surfers set to match up again in the semifinals on Sunday where they will meet Kalani Louis (Tara) and top performing local surfer Daniel Cox.

The first semifinal of the Under 14 Boys Division will see National Champion Navryn Malone (Rag) face off against Ryder Pennington (Tara), Mathias Thompson (Piha) and Cooper Roberts (Mnt).

Late in the day the event advanced through to the Under 16 and 18 Divisions. The first major upset of the day occurred in the Under 16 Girls Division when current rankings leader Natasha Gouldsbury (Tara) found herself on the wrong side of a tight heat which saw Auckland surfers Alice Westerkamp and Summer Carkeek advance. Liv Haysom (Auck) and Ava Henderson (Chch) also advanced through to the semifinals of the division with heat wins.

Raglan's Jayden Willoughby got the Under 16 Boys Division off to a flyer with the highest single scoring wave of the day – a 9.6 point ride as he pushed through to the Quarterfinals alongside Te Kauwhata Kauwhata (Whngrei). Jacob Buckle (Whngrei) and Jacob Saunders (Mnt) advanced out of the second semifinal. Heats are expected to run through until 8pm tonight to get through as much of the event as possible.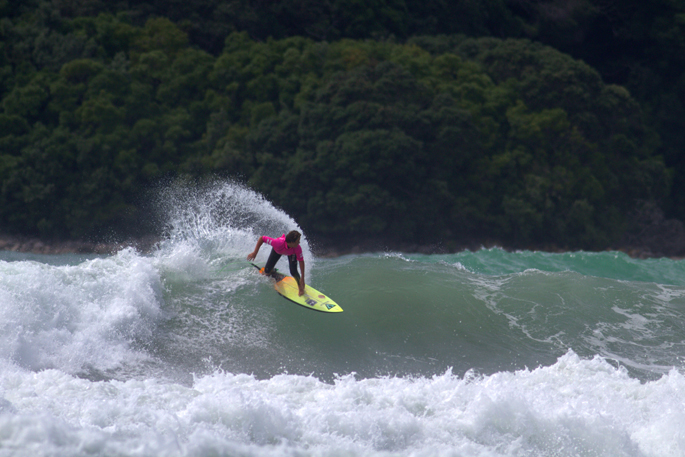 Navryn Malone. Image courtesy of Col / Surf2Surf.com.
Results from day one of the second event of the Billabong Grom Series presented by Oceanbridge held at Whangamata:
Under 14 Boys Division Round of 48
Heat 1
Tiger West-Hill (Gis), 7.83, 1, Otis Baxter (WGM), 6.2, 2, Jacob Walker (Auck), 1.9, 3, Jimmy Cleland (Auck), 1.67, 4
Heat 2
Ryder Pennington (Tara), 9, 1, Noah Camburn (Ohope), 5.9, 2, Levi Waller (Pauanui), 3.83, 3, Tom Curteis (Auck), N/S
Heat 3
Tava Santorik (Mnt), 12.17, 1, Dale Cromhout (Hbay), 7.23, 2, Luke Mitchell (Auck), 5.7, 3, Mali Millen (Tai), 4, 4
Heat 4
Braedon Webster (Ohope), 6.67, 1, James Charlesworth (Auck), 4, 2, Taylor Mainwaring (WGM), 2.6, 3
Heat 5
Tyce Schumacher (Mnt), 4.03, 1, Noah Jakich (Auck), 3.6, 2, Lucian Martin (Auck), 1.8, 3
Heat 6
Tana Clapham (Rag), 11, 1, Daniel Cox (WGM), 5.23, 2, Taj Dal Bosco (WGM), 4.3, 3, Hunter Ussher (WGM), 2.1, 4
Heat 7
Riku Gordon (Mah), 6.1, 1, Rory Bathhurst (WGM), 5.57, 2, Harley Waller (Pau), 3.6, 3
Heat 8
Bill Byers (Piha), 13.5, 1, Marcus Fraser-McKenzie (Mnt), 7.54, 2, PJ Klein - Ovink (Auck), 5, 3, Kaden Littlejohn (Katikati), 3.4, 4

Under 14 Boys Division Round of 32
Heat 1
Tiger West-Hill (Gis), 12.3, 1, Beau Woods (Mnt), 11.3, 2, Jack Tyro (Chch), 7.64, 3, Noah Camburn (Ohope), 5, 4
Heat 2
Ryder Pennington (Tara), 13.4, 1, Mathias Thompson (Piha), 9.77, 2, Theo Morse (Orewa), 3.97, 3, Otis Baxter (WGM), 1, 4
Heat 3
Tava Santorik (Mnt), 10.57, 1, Cooper Roberts (Mnt), 6.53, 2, Ben Milne (WGM), 5.2, 3, James Charlesworth (Auck), 2.57, 4
Heat 4
Navryn Malone (Rag), 15.7, 1, Dale Cromhout (Hbay), 5.53, 2, Charlie Harris (Mnt), 3.07, 3, Braedon Webster (Ohope), 2.33, 4
Heat 5
Tai Erceg-Gray (Whngrei), 9.5, 1, Daniel Cox (WGM), 3.57, 2, Lachie Cruikshank (Auck), 2.93, 3, Tyce Schumacher (Mnt), 0, 4
Heat 6
Will Hardie (Piha), 11.1, 1, Eden Mainwaring (WGM), 7.94, 2, Tana Clapham (Rag), 6.9, 3, Noah Jakich (Auck), 2.43, 4
Heat 7
Kalani Louis (Tara), 7.93, 1, Marcus Fraser-McKenzie (Mnt), 7.3, 2, Riku Gordon (Mah), 4.56, 3, Leo Hobson (Auck), 2.6, 4
Heat 8
Rory Bathhurst (WGM), 6.16, 1, Bill Byers (Piha), 4.33, 2, Indica Corcoran (Mnt), 3.4, 3, Tao Mouldey (Mnt), n/s

Under 14 Boys Quarterfinals
Heat 1
Cooper Roberts (Mnt), 8.33, 1, Ryder Pennington (Tara), 8.23, 2, Tiger West-Hill (Gis), 8.07, 3, Dale Cromhout (Hbay), 4.6, 4
Heat 2
Navryn Malone (Rag), 8.93, 1, Mathias Thompson (Piha), 4.6, 2, Beau Woods (Mnt), 2.57, 3, Tava Santorik (Mnt), 2.37, 4
Heat 3
Tai Erceg-Gray (Whngrei), 11, 1, Bill Byers (Piha), 10.3, 2, Marcus Fraser-McKenzie (Mnt), 8.93, 3, Will Hardie (Piha), 3, 4
Heat 4
Kalani Louis (Tara), 7.16, 1, Daniel Cox (WGM), 2.77, 2, Eden Mainwaring (WGM), 2.2, 3, Rory Bathhurst (WGM), 0, 4

Under 14 Girls Division Round 1
Heat 1
Sophia Brock (Mnt), 7.16, 1, Amanda Gouldsbury (Tara), 4.77, 2, Ariana Walker (Mnt), 3.96, 3, Chloe Groube (Pau), 3.03, 4
Heat 2
Asia Braithwaite (Gis), 8.03, 1, Mahia Braithwaite (Gis), 6.6, 2, Alani Morse (Orewa), 4.3, 3, Lily Honeycombe (WGM), 2.04, 4
Heat 3
Anna Brock (Mnt), 10.3, 1, India Kennings (WGM), 3.5, 2, Coral Woods (Gis), 2.43, 3, Lola Groube (Pau), n/s
Heat 4
Jess Haysom (Piha), 5.9, 1, Amelie Brady (Mnt), 4.26, 2, Pia Rogers (WGM), 2.9, 3, Naobi Nishida (Auck), 2.2, 4

Under 16 Girls Division Round 1
Heat 1
Liv Haysom (Piha), 8.93, 1, Brie Bennett (Rag), 7, 2, Ava Smith (Gis), 5.77, 3, Alice Webb (WGM), 2.23, 4
Heat 2
Alice Westerkamp (Auck), 4.5, 1, Summer Carkeek (Auck), 2.67, 2, Natasha Gouldsbury (Tara), 2.5, 3
Heat 3
Ava Henderson (Chch), 10.43, 1, Hannah King (Gis), 8.76, 2, Daizee Rawles (Gis), 2.63, 3

The 2019 edition of the Billabong Grom Series presented by Oceanbridge is split into three divisions for boys and girls ranging from Under 14 through to Under 18 in two year increments.

It is the fourteenth year that Billabong has sponsored the series in partnership with Oceanbridge who have been a proud long-time supporter of surfing in New Zealand
Reported By:-