7 DAY TOTAL RAINFALL ACCUMULATION MAP - Above - Based on GFS (US Govt) - Below - Based on ECWMF (Europe)
Rainmakers are definitely increasing around the New Zealand area but stubborn high pressure will continue to hold the rain clouds at sea for most (but not all) regions, says WeatherWatch.co.nz
Over the next several days, more than 150mm of rain is forecast to fall out over the Tasman Sea, this is the biggest concentration of rain over that area so far this year - yet high pressure stuck over NZ may well keep the bulk of it offshore.
"There are a couple of exceptions. The West Coast has a number of wet days ahead, but next week is looking dry there too. We may see a few more showers around the lower North Island too - but hit and miss," says the weather organisation.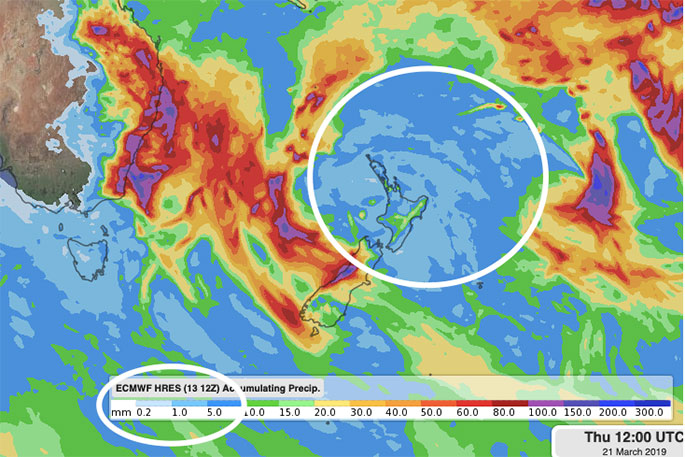 "The tropics is definitely waking up. A tropical cyclone is forecast to develop in the days ahead and likely impact Queensland, Australia next week.
"It's unlikely this storm will come to NZ but we'll be monitoring it closely and will have updates for those interested in tracking this storm. Our first update will be this morning."
There are other areas of low pressure forming north of NZ and around the Tasman Sea area too. But the stream of high pressure from south of Australia and directly crossing New Zealand looks set to continue for perhaps the rest of the month meaning things will get drier, before they get wetter again.
If high pressure in the NZ areas weakens then rain clouds look highly likely to move back in - so many will be hoping for that to happen at some point before the month is done.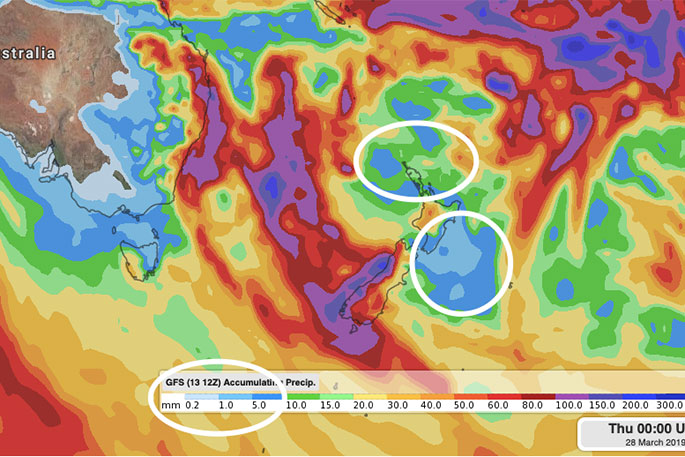 14 DAY TOTAL RAINFALL ACCUMULATION MAP - GFS Only (US Government - please note being 14 days out means this will change a little, but you get the idea of where the heaviest rain will be and the driest weather will be).
Reported By:-