Photo: Daniel Hines/SunLive.
A Bay of Plenty truck driver is sick of seeing litter in the same spots around rural roads.
Ryan Fellingham notches up kilometres on end while driving around the region, and says in the two years he has been here, copious amounts of litter is stuck in drains and around the roads.
"It's everywhere, No 1 Road, No 2 Road, every road out in the country, it's just getting beyond a joke.
"The whole of Welcome Bay Road, all the way down to Te Puke, from the Papamoa roundabout, all around the drains, people are just dumping bags of rubbish and there's no need for it."
Ryan says some of the rubbish has been there for over two years and it hasn't been cleaned up.
"I told the council Welcome Bay Road needs to be tidied up, and I never heard anything back.
"The mower's chop all the rubbish up and it's just ingrained into the grass, then it gets washed down the drains, and the next time it rains it goes down the waterways."
Ryan says he is trying to get a group together to clean up the polluted roads, however he believes it is a wider council issue.
"There are a lot of people around, you could just do an hour on a Saturday and you'd be surprised how much you get in five minutes.
"You see people cleaning up the beach, but it's not as trendy to clean up the side of the road, when you're out in the country picking out of the drain."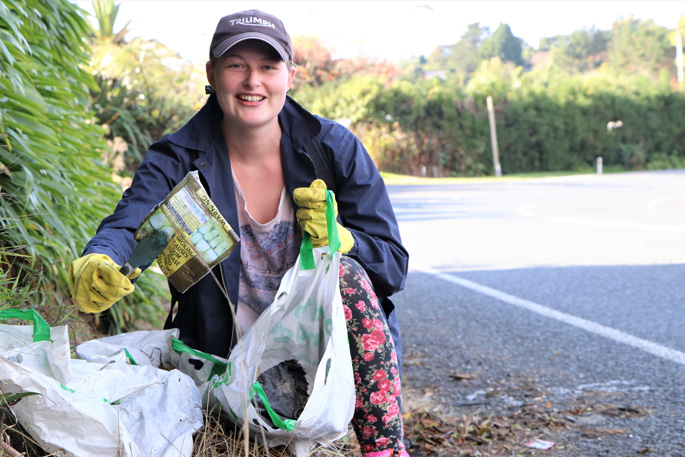 Sarah Ardill picking up rubbish on Welcome Bay Road. Photo: Daniel Hines/SunLive.
While SunLive were taking photos of the litter scattered around Welcome Bay Road, we came across Sarah Ardill, who was on the side of the road picking up rubbish.
Like Ryan, Sarah too is frustrated by the amount of litter on rural roads. She and her boyfriend relocated to Tauranga from Sydney only a few months ago, to have a new experience.
Sarah says her motivations to pick up rubbish along Welcome Bay Road come from being passionate about the environment.
"I drive Welcome Bay Road pretty much every day, and we've been here for four months now, and I've started noticing it even more, so I thought why not go and get it done, nobody else is doing it.
"It's not a constant every day go out, I might go out a few times a week."
Sarah says she normally leaves the house with a few empty recyclable shopping bags, and she returns with the bags full of rubbish and dumped unwanted items.
"I'm starting to think, where is this rubbish coming from? Are people leaving it on the side of the road?
"It's mainly junk food, you'll find maccas, I've found a few electrical items, phones, tablets, around two bags full of recyclables, and this is only from today's clean.
"It just enters our waterways and pollutes everywhere else."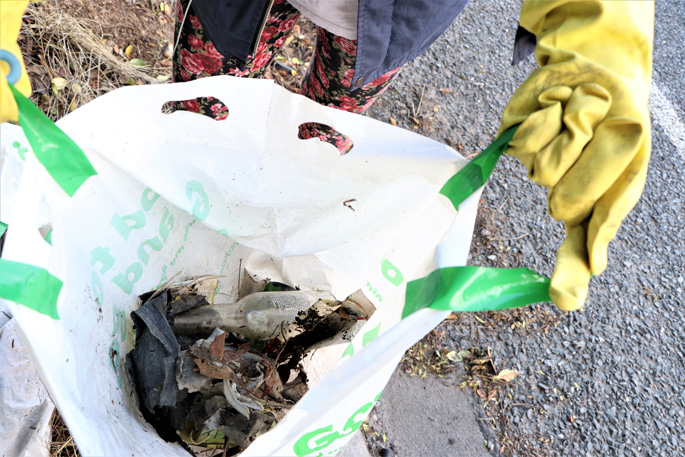 Some of Sarah's litter haul. Photo: Daniel Hines/SunLive.
Sarah says she has had great support from the wider community, with people tooting as they drive past her, and exchanging numbers with other residents who too clean up rural areas.
"One of the biggest issues is people leaving their plastic rubbish on the side of the road on rubbish day, birds are coming in and eating the plastic, and if the rubbish bag isn't tied up properly, it's going everywhere.
"I've seen one of the plastic bags open on the side of the road for a good few weeks."
Western Bay of Plenty Mayor Garry Webber says the litter issue doesn't only occur in rural Bay of Plenty areas, but wide across rural and urban New Zealand.
"Unfortunately people see it as appropriate to throw their rubbish, or in some instances fly tipping, which is tipping large volumes of stuff on the side of the road.
"It does add incredible cost to council when it gets to large components, we spend money getting people out to pick it up, and unfortunately it's the good citizens of the western Bay, the rate payers pay the bill for picking up the litter that those who don't have specific pride, feel it's appropriate to throw on the side of the road."
Garry says the litter is not specific to Welcome Bay Road, however the council receive complaints from Katikati and Waihi Beach.
"It is an ongoing problem and it's been around for a long, long time, where people for some reason feel it's easier to dump stuff on rural roads rather than take it to Maleme Street where they have to pay, or the recycling centres at Te Puke or Katikati or Waihi Beach.
"There are some people who don't respect good behaviours.
"We have our education programmes, we have signs up wherever we can, and it's unfortunate, you drive anywhere in New Zealand where you see rubbish and bottles on the side of the road."
Garry says when a case is serious, such as an unknown car being dumped, action is taken to clean up the mess.
"We've got to pay ultimately if we can't track down the owner of the rubbish is, we've got to pick it up and take it to a dump ourselves, and the rate payers end up paying the bill."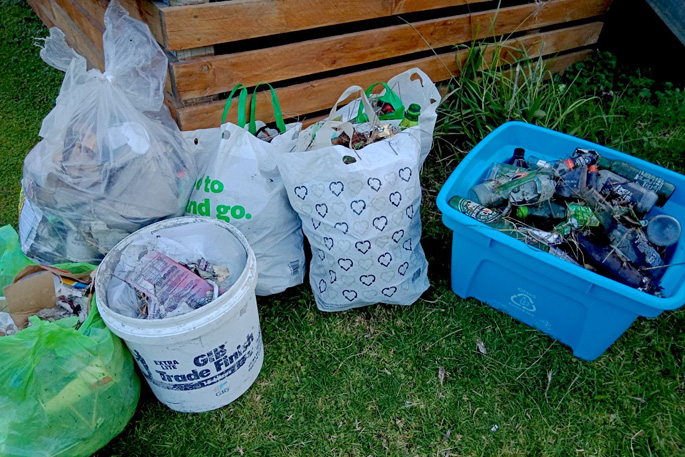 The amount of litter Sarah collected after one clean up. Photo: Supplied.
Reported By:-