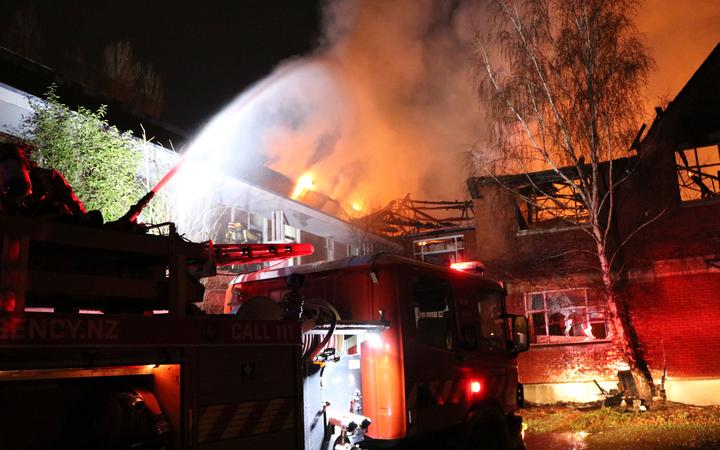 Antonio Hall has been empty since the earthquakes. - Photo: Supplied / Fire and Emergency
The fire which engulfed a historic Christchurch Hall in Riccarton has been contained and evacuated residents have been allowed back into their homes.
Fire services were called to Antonio Hall on Riccarton Road about 5.30pm.
A Fire and Emergency spokesperson earlier said the historic hall was fully engulfed and more than 16 fire crews from across Canterbury were at the scene using tall ladders to 'aerial attack' the hall with water from above.
Spokesperson Stephanie Slathery said the situation was calming down.
"The fire is now contained and crews are continuing with aerial roof attacks, so that's with the extension ladders just cooling the building and crews are about to start searching through the building and that's when we'll start to gather a bigger picture about what's gone on."
About 50 houses were evacuated, but residents have now been allowed to return to their homes.
Ms Slathery said the fire did not spread beyond Antonio Hall.
Riccarton Road was closed to traffic westbound from the intersection with Wharenui Road and Clyde Road, and Middleton Road eastbound.
The roads were expected to stay closed overnight, and road users were asked to use Blenheim Road for east and westbound travel.
Local resident Rudy said he was cooking dinner when someone knocked on his window and told him to move his car.
"So I rushed outside, had a look around to see why we had to get our car out of the garage and then I saw Antonio Hall on fire," he said.
"Police then came and they said 'you've got five minutes to leave' so we just grabbed basics and we left and we're now on the street, watching the flames.
He said he thought the hall would be written off.
"I think the building's going to be a total, total loss and I can't see them putting it out. It's in the roof on the east side of the building now, so that means the whole building's gonna go."
An RNZ reporter at the scene earlier said the building was well alight and plumes of smoke and orange flames could be seen from a long way away.
Antonio Hall is a Category-two Historic building in the heart of Riccarton which has been empty since the earthquakes.