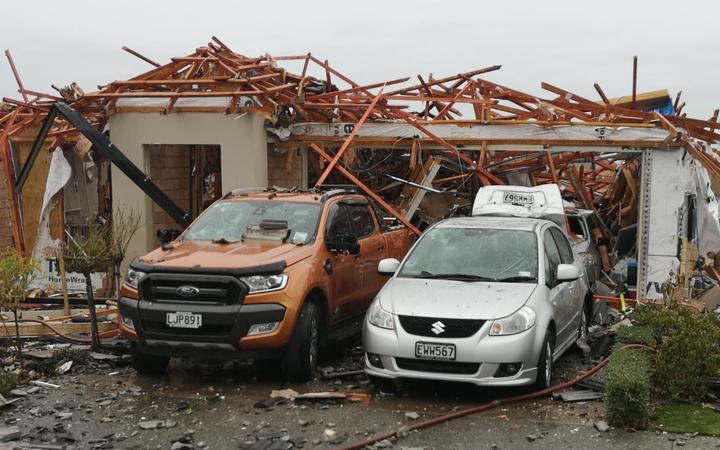 The scene of a gas explosion that destroyed a Christchurch property. - Photo: RNZ / Logan Church
A house is destroyed and people are injured in a huge gas explosion that was heard across Christchurch.
St John ambulance said six people are being treated for moderate to critical injuries after the explosion at Marble Court in the suburb of Northwood.
Fire and Emergency said one property has been destroyed and five properties have been severely affected by fire.
They said a further 17 properties have been impacted by debris.
At least 50 surrounding properties have been evacuated.
All residents in Northwood are being asked to turn off their gas systems following the explosion.
Electricity will also be shut off in the area.
Footage on social media shows a house in ruins with flames shooting up through the piles of wood, bricks and rubble.
Roofing tiles and insulation material was scattered over neighbouring properties.
Emergency services were called to the scene at 10.16am.
Harry Soper lives nearby and said he heard a loud bang and felt ground shaking.
"I thought it might have been an earthquake, then I heard a lot of sirens.
"There's a couple of ambulances and a couple of police cars - there's about two or three fire trucks further down," he said.
People posted on social media about the explosion.
Didn't hear the explosion myself but the garage door went bang and I thought it might've been an earthquake.

— Kelly (@Tera_Argentis) July 18, 2019
Ok so it got updated to an explosion by the time I pasted it. Scary

— Nicola (@Coffeeperfavore) July 18, 2019
A welfare centre has been set up Styx Mill Country Club for anyone affected.
Councillor Aaron Keown said those living near the property are very shaken. He said the country club had opened its doors to those affected.
"The Styx Mill Country Club is open to any residents that need somewhere to go, need information, or need support, because with power off, some of them will be limited to what information they can now get, so we're just advising them to come down to the Styx Mill Country Club and wait there for information."
Fire and Emergency said the fire has now been extinguished and power and gas had been turned off at the affected properties.
Police are assisting with evacuations and road closures and an investigator is on the scene.
Motorists are advised to follow diversions and avoid the area.