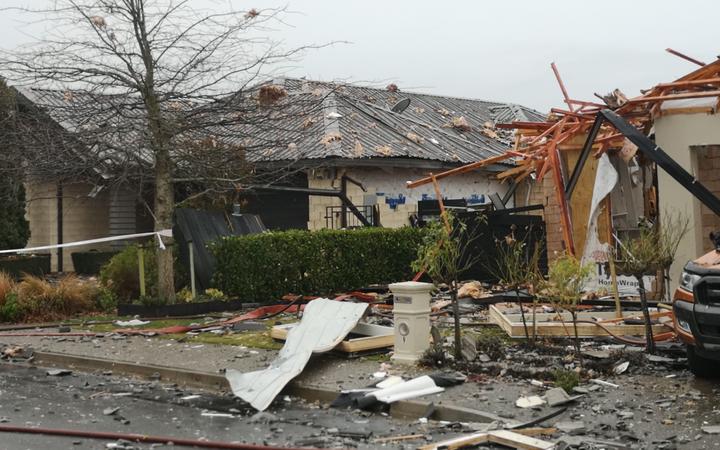 Some Northwood residents remain evacuated after the explosion yesterday. - Photo: RNZ / Logan Church
The Christchurch community is being praised for rallying behind Northwood residents whose homes are uninhabitable after yesterday's gas explosion.
A number of people have opened up their homes to at least 20 people whose houses are affected by the cordon and are without power and gas.
Police have also been working overnight to keep empty properties secure, and an emergency centre in the Styx Mill Country Club is still open to residents in need.
Styx Mill Country Club Manager Tom White said they have received boxes of free food to pass on. They have also had support from charities offering donations and even a cattery has offered to house the evacuees' pets.
Mr White said he has lived in the area for 14 years and to see everyone unite in support has been heartwarming.
Three are now in a stable condition and one has been discharged, however, one person remains in a critical condition and another has been transferred to Middlemore Hospital in Auckland.
Last night Fire and Emergency said the fire had been extinguished, and power and gas had been turned off at the affected properties.
All residents in Northwood were asked to turn off their gas systems following the explosion. Electricity has also been shut off in the area.
Residents have described doors blowing open, objects falling off their walls, and debris landing on their roofs after a gas explosion yesterday.
Mina Marinkovic, who lives nearby, said she woke to the bang.
"Hearing and feeling a large shake and a crack and actually quite a lot of our lights fell down," Ms Marinkovic said.
"So of course we're like it can't be the lights, no way, so small and insignificant and then my friend who lives in Redwood asked me 'Did you hear that?' and of course I thought this is a lot greater than I thought it was and I look outside and see smoke escaping one of the houses."
The police say properties in Marble Court and Brookwater Avenue remain evacuated and cordons are in place.
WorkSafe, the police and Fire and Emergency are investigating the blast. A scene examination will be carried out today.
Area commander Dave Stackhouse said safety experts were still checking whether people could return to other houses behind a wider cordon.
Motorists are advised to follow diversions and avoid the area.
Marble Court, Brookwater Ave, Millstream Drive, Springbrook Lane, Brookfield Drive and Water Mill Boulevard are all closed.
Police said the cordons will remain until the site is safe, and the situation will continue to be reviewed over the coming hours.
The public is asked to avoid the area until police have completed their investigation.
Fire and Emergency said one property has been destroyed and five properties have been severely affected by fire.
The explosion also damaged nearby properties - with 17 hit by debris - and at least 50 surrounding properties evacuated. Roofing tiles and insulation material was scattered over neighbouring properties.
Canterbury metro police commander Lane Todd said safety experts have been going from house to house to ensure homes were safe for people to return to.
Mr Todd told Checkpoint that people were thankful it wasn't worse.
"Everyone's just thankful that no-one was killed in this incident and I'm sure if you've had a look around it is quite amazing that no-one was killed, although we have people seriously injured."
Mr Stackhouse said a team was looking into what may have caused the blast.
He said emergency services were working as quickly as they could so evacuated residents could re-enter their properties.
Tradie James Looyer, who helped dig the injured out of the rubble, told Checkpoint he was with his workmates at the time of the explosion.
"We pretty much just thought it was an earthquake ... just looked straight down the straight and you could see it, just a big burst of flames and smoke just sitting up in the air.
"Every house in the whole street, everything was rattling."
"There was this big, pretty much, a cloud was sitting above one of the houses and heaps of smoke pouring out of it."
He said the impact could be seen as far as 50m to 100m down the road with bricks off walls, garage doors caved in, guttering collapsed, window framings popped down from houses.
"There was rubble everywhere, all across the road."
He said he headed over in his van with his workmates to check it out.
"You could definitely smell a lot of gas through there ... it's definitely a gas leak by the sounds of it.
"Had a look over the fence and there was a whole house just collapsed into one big pile in the middle and there was five people inside."
The survivors who were trying to crawl free were stunned and deaf from the explosion, he said.
"They were all pretty much underneath the wood and ... [we] just hopped over the fence and started pulling all the wood off them and carried out as many as we could see and ... got a couple of the guys out of there and then found a few other people around the house and pulled them out.
"There was framework all over the top of them, half of them were trying to crawl out ... another lady was just laying down on the ground underneath of it. The two guys I work for just got straight in there - no hesitation - and just started pulling all the wood off them.
"Everyone was safe on the lawns but they couldn't really hear what we were saying, they were pretty deaf from the big bang.
"They were absolutely in shock... their eyes were bloodshot... they were scared laying there and asking for help pretty much."
He said it was "pretty much nothing left" of the house where the explosion happened.
"Apart from the framing in the middle ... all the bricks are just scattered around the outside of the place.
"The roof has just absolutely blown straight off ... scattered around the whole street.
"The next door neighbour's exactly the same, all the bricks have caved in, all the windows are gone, the garage windows are all caved in."
Resident says his shower disintegrated
David McCracken was one of 50 residents to evacuate - his house is less than 10m away from the property that exploded.
He told Checkpoint he initially thought the noise was coming from his house.
"I was in the shower at the time and the shower was disintegrating around me, I thought the boom - the explosion - was from our house and I went outside an it was pretty badly damaged but then I realised the fire started in the house behind.
"The tiles of the roof landed on my car, smashed the front windscreen, the car's all smashed. Our house, all the framing is blown out of the house and all the windows blown out, yeah, it's pretty bad."
Mr McCracken said he helped to evacuate his elderly neighbour and her dog before running towards the house to check on the residents directly affected.
"I'm just glad this morning that my wife and daughter weren't there."
Another neighbouring resident said there were cracks in his walls after the explosion.
"When I hear a big bang and just right to the window I saw the house was shaking ... and I saw big lots of white paper in the sky very high."
He said he ran with just jandals on to investigate what had happened.
"Coming to the place, [there] was flame beside the house ... somebody was already behind the gate and asking [for] help."
Footage on social media showed a house in ruins with flames shooting up through the piles of wood, bricks and rubble.
Didn't hear the explosion myself but the garage door went bang and I thought it might've been an earthquake.

— Kelly (@Tera_Argentis) July 18, 2019
Ok so it got updated to an explosion by the time I pasted it. Scary

— Nicola (@Coffeeperfavore) July 18, 2019
Ken, who lives just two doors down from where it happened, said he heard it all the way from his workplace about 7km away.
"We all thought something had happened at our work ... so we all rushed outside to investigate what had happened."
Ken told Checkpoint his house was quite fortunate in not being hit by the worst of damage.
"We can see the windows have blown out, interestingly it looks like it's blown outwards not inwards and damaged the garage door as well. It looks like the blast has gone in a particular direction - somewhat fortunately for us - slightly away from our house.
"Interesting that other houses have suffered very significant damage whereas we're only two doors away and at this stage from what we can see from videos, [it's just] superficial damage for us.
"It's staggering that someone's been able to walk out of that house when you see images like that."