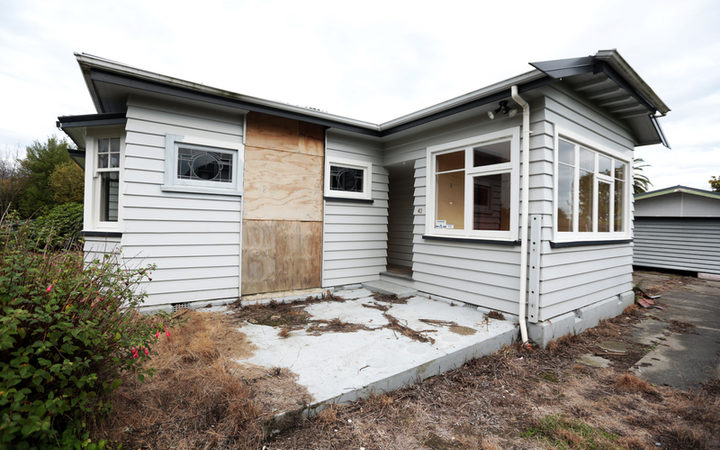 A house in Christchurch's red zone. - Photo: RNZ / Diego Opatowski
Cantabrians who have unwittingly bought severely quake damaged homes are now eligible for government grant to fix them.
EQC Minister Grant Robertson and Greater Christchurch Regeneration Minister Megan Woods revealed a payout scheme this afternoon, estimating it could bring relief to about 1000 homeowners left in limbo.
Payouts will be available to people who own on-sold houses and can't access private insurance, but have more than $100,000 of earthquake damage - which is the EQC cap.
The government estimates it could cost $300 million dollars to fix the houses, and is giving eligible homeowners 12 months to lodge their claim to EQC. EQC will then work with the home owners to agree a payment amount so repairs can be made.
Mr Robertson said the scheme will provide relief for the last group of people affected by botched or missed repairs after the Canterbury earthquakes.
It is part of wider government plans to remediate the effects of the earthquakes, by resolving outstanding EQC and insurance claims and establishing the Canterbury Earthquakes Insurance Tribunal and the Greater Christchurch Claims Resolution Service.
Since the changes were implemented, 84 percent of the EQC claims on hand in May 2018 have been resolved.
A statement from a government spokesperson said the new scheme didn't serve as acknowledgement that EQC bore responsibility for the damaged houses.
"Owners of on-sold properties were the last group for whom no solution existed - this has nothing to do with liability or responsibility, it's simply in no one's interest to allow this situation to drag on further."
The scheme won't stop any contractors or builders from being held liable for any poor or faulty workmanship or supervision, as under the agreements between EQC and homeowners, the homeowner will assign their right to sue third parties.
It also won't relieve private insurers from their obligations to owners, as payments made under the support package will take into account other available payment entitlements.
The government is urging homeowners who believe they are eligible for a payment to contact EQC directly, to discuss the specifics of their property.
Mr Robertson and Ms Woods are expected to reveal more details about the scheme at a media briefing in Christchurch this afternoon.