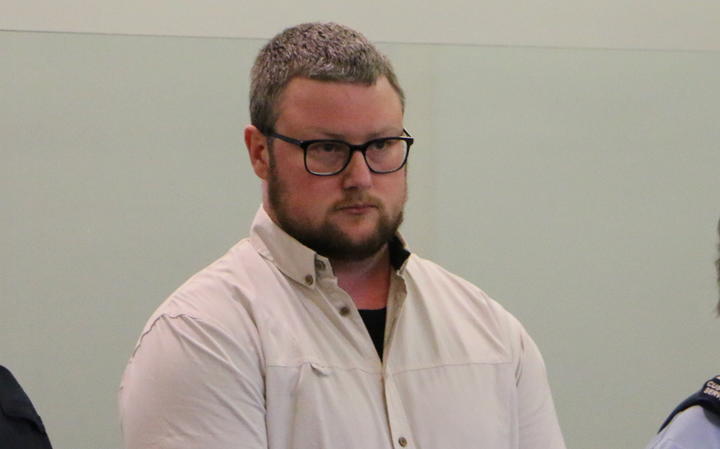 Aaron James Archer is accused of murdering a toddler at Mangawhai in Northland on 22 August 2018. - Photo: RNZ/Anneke Smith
A High Court jury has been told a Mangawhai toddler died of injuries that can't be explained by an accident.
Ariah Dawn Roberts died in the care of her mother's former boyfriend Aaron Archer in the early evening of 22 August 2018.
The two-year-old was with Mr Archer while her mother went to the supermarket and 15 minutes later she wasn't breathing.
It's the Crown's case that Mr Archer, who stands accused of her murder in the High Court at Auckland, assaulted the child while he was alone with her.
This morning Crown prosecutor Oliva Klaassen told the jury the toddler was uninjured - bar a single bruise to her eye - when her mother left the house.
"The expert opinion of her injuries is she suffered multiple blows or blunt force trauma to the head. The appearance of around 20 bruises on her head and face clearly indicates head impacts and one of those multiple impacts caused the fatal injury."
The court heard the young girl died of an acute brain injury. Ms Klassen said the level of force required for such injuries was akin to car crashes and falls from two storey buildings.
The prosecutor told the jury Mr Archer's explanations of what happened that night didn't marry up with the expert evidence.
"He told Ariah's mother he was swinging her around and she hit her head. He told this story to other people that night along with other explanations that he dropped Ariah, he swung her in a way that she hit her head on the wall and he threw her up and she slipped."
She told the jury they would hear from a forensic expert who found the overall pattern of Ariah's injuries could only be explained by deliberate force.
In a brief opening address, Mr Archer's defence lawyer Annabel Maxwell-Scott told the jury there was nothing sadder than the death of a child.
"None of us wish we were sat here dealing with this but we have to. The defence case is simple; it was an awful tragic accident but it was an accident."
Ms Maxwell-Scott said her client didn't assault or intend to kill Ariah and asked the jury to keep an open mind when considering the evidence they hear.
The trial before Justice Whata, and a jury of seven women and five men, is set down for three weeks.