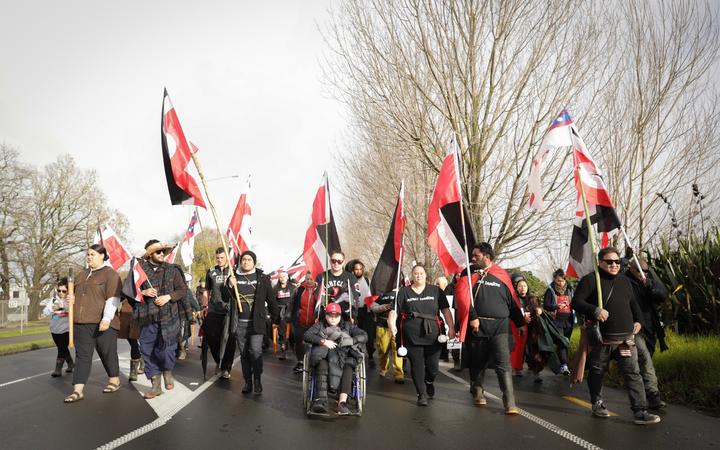 Marchers on a hikoi from Ihumātao to Prime Minister Jacinda Ardern's electorate office on Thursday. - Photo: RNZ / Claire Eastham-Farrelly
Waikato-Tainui and the Kiingitanga are shutting down claims that they are about to buy back Ihumātao.
Some media reported today the iwi was set to purchase the land from Fletcher Building, but iwi leaders have dismissed the claim as speculation.
Such a move could have sealed the end of an intensive month-long Māori occupation at the South Auckland site to stop a major housing development by Fletcher.
But iwi leader Rahui Papa said no such decision had been made.
"There is no deal. There is no resolution at this stage and all of the media speculation is unfounded," he said.
At the Koroneihana celebrations this week, Kiingi Tūheitia talked about allowing time and facilitation for a resolution to be reached.
"There are a number of resolutions that could be considered - this could be one of them - but that will take time and that will take comprehensive discussion," Mr Papa said.
Waikato-Tainui is a powerhouse iwi worth more than $1b and Mr Papa was not completely ruling out the iwi buying the land.
"That will have to be something like a bridge that will be crossed when we get there.
"It has to have a really comprehensive appetite with the ahi kā and with the Kiingitanga."
He said there have been a number of discussions in a bid to find a resolution, which are going "really good".
The Kiingitanga flag continues to fly at Ihumātao, and will remain in place until a resolution is found.
"If you don't hear it from the official sources of the Kiingitanga, then it is just rumour and speculation."
Today marks a month of intense occupation at Ihumātao as some mana whenua, including the group SOUL, oppose a Fletcher Building housing development. They have argued the land is a heritage site, formerly stolen from Māori by the Crown, and should be protected.