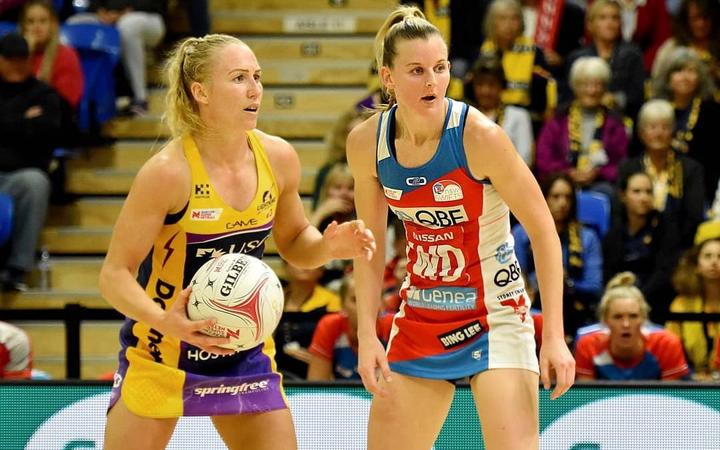 Katrina Rore defending Silver Fern teammate Laura Langman in the Australian domestic competition. - Photo: NSW Swifts
It's hard to imagine that Katrina Rore's incredible netball three-peat will ever happen again.
The Silver Fern capped off an amazing year yesterday when her New South Wales Swifts team upset the Sunshine Coast Lightning 64-47 to win Australia's Super Netball title.
Before this year, the best you could get was a World Cup and Premiership title in one year and that was hard enough.
But the 32-year-old achieved something no one has before when she added the Australian title to her name.
Rore started the three-peat as captain of the Pulse side, when the franchise won its maiden New Zealand domestic crown earlier this year after years of trying.
The Swifts hadn't won a title since 2008 and Rore knew how desperate they were.
"I completely understood where they were coming from ...I knew exactly how they were feeling, I had been there and done that.
"I knew how much work they had all put into it ... this team really deserved to win and just being part of it for the last seven or eight weeks, the culture they had here and how much they wanted this championship is massive."
Most tipped the two-time defending champion Sunshine Coast Lightning to win at home, given their finals experience, and with wily coach Noeline Taurua at the helm.
But the Swifts had different ideas and Rore said everyone showed up and played their A game yesterday.
Rore played a key role at wing defence, containing Lightning pocket rocket Laura Scherian and also did a load of work on attack driving the ball down court.
Rore said Swifts coach Briony Akle was great to work with and had set up an amazing culture.
"The week leading into the final especially, the coaching has been outstanding and I think that showed yesterday. But also the players and management welcomed me with open arms.
"They said they worked very hard on their culture and you could tell and it was seamless for me to come in over here and do what I do and I can't be more thankful that I was able to come over here and help them win a championship."
Rore said she was still trying to comprehend the year she had.
"It's really crazy ...I feel like my stars have just aligned and I've been able to be a part of three unbelievable teams who know their path and have known how to get there.
"And I've just kind of jumped on board and done what I've done and hopefully just added my own flavour and got it there but I don't think it's sunk in - three grand finals, three gold medals. It's a bit ridiculous to be honest."
The former Silver Ferns captain, who had a difficult 2018 when the team was at its lowest, was recalled to the national team for the World Cup, before a late injury threatened to rule her out.
But she prevailed and the Ferns went on to lift the World Cup trophy for the first time in 16 years.
Rore was quickly drafted into the Swifts team midway through their season to cover injuries.
This is the first year players from New Zealand have been able to play across the Tasman, unrestricted, because Australian netball decided on a late start to accommodate the World Cup.
Rore said she would recommend playing in Australia if the timing is right for the individual player.
"I feel like I'm at the age and the time of my career where it fit with me. I've done a lot in New Zealand and I feel like that is a massive part of me being able to appreciate my time in Australia as well.
"With the experience I've gained at home and having the true Kiwi game and being able to come over to Australia so it's a great experience and I do recommend it but like I said I feel like I'm at the right age and experience for me to be over here and add something and learn something."
There's no time to rest for Rore, who will be back in New Zealand on Wednesday.
The Constellation Cup team is named early next week.
"I'll be straight into training for that but I feel like I've got pretty good court fitness at the moment so I'll probably just be working on a few other things."