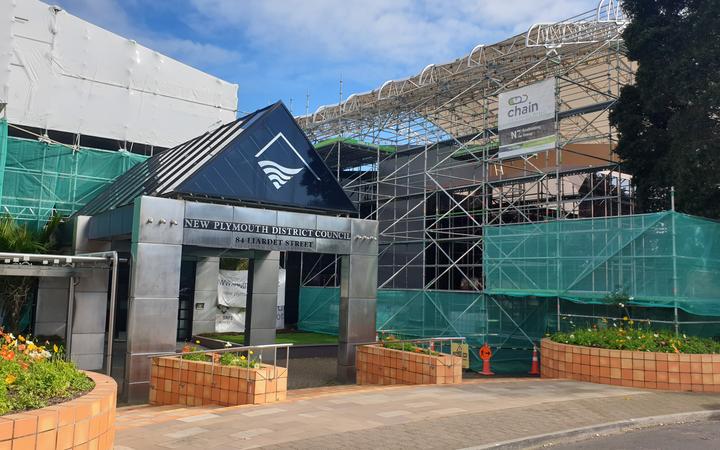 The New Plymouth District Council building. - Photo: RNZ / Robin Martin
The New Plymouth District Council is facing legal action over a sewage spill which sent millions of litres of human effluent into a local stream, killing fish and eels.
The Taranaki Regional Council says it is prosecuting "a number of parties" following the discharge from a Bell Block pump station into the Mangati Stream in January.
It says for legal reasons it can make no further comment on the matter.
The discharge occurred over the weekend of the 21 and 22 January.
RNZ understands it initially involved a plant failure overnight on 21 January and a subsequent operational failure which allowed raw sewage to flow into the stream for about 10 hours.
The New Plymouth council put up warning signs at the stream, informed hapū and the regional council, but did not tell the media or use the news pages of its website or its social media channels to publicise the scale of the spillage.
RNZ broke the story about dead fish and eels being discovered in a Mangati Stream which had been running white on 28 January.
Mayor Neil Holdom initially said the council had followed "policy" but he later apologised on Morning Report for not doing more to inform the public.
"Just to be clear we acknowledge that we didn't issue a media release ... It's my expectation that if we have a spill of the scale of this, which is a huge environmental incident, we need to get that message out through the media and through our social channels and just let people know."
More than 1.5 million litres of sewage had been discharged into the stream, which was the equivalent of half the volume of an Olympic-sized swimming pool.
Mr Holdom blamed outdated infrastructure for the spill and he warned building in a fail-safe would come with a hefty bill over the entire network.
There have been 125 sewage discharges in New Plymouth over the last five years - a figure that has decreased year on year - and 15 sewage discharges alone at Mangati Stream since 2010.
Most recently 60 tonnes of fat overwhelmed two pump stations in the west of the city, spilling sewage onto Ngā Motu Beach and forcing at least one school to close and several suburbs to forgo flushing toilets.
Prosecutions under the Resource Management Act require a high level of culpability, but there are precedents of district councils being stung with hefty fines which the New Plymouth District Council chief executive Craig Stevenson knows all to well.
Mr Stevenson was in charge of the South Taranaki District when the regional council prosecuted it and Fonterra for dumping waste milk at Eltham in 2013 plaguing it with a foul smell for months.
In 2015 the council was fined $115,000 for its role in the sage while Fonterra copped a $192,000 penalty.
Last year the Whanganui District Council was fined $21,000 after wastewater was pumped into the Mowhanau Stream at Kai Iwi Beach, near Whanganui.