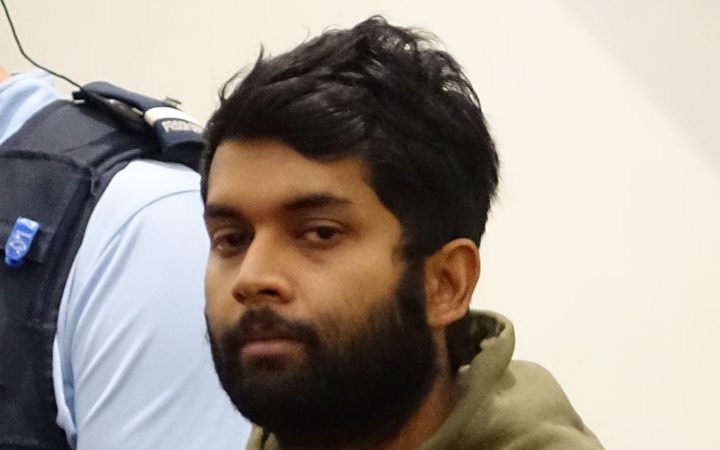 Venod Skantha - Photo: RNZ / Tim Brown
A jury in Dunedin has heard a former doctor allegedly killed a 16-year-old girl to stop her coming forward with allegations of inappropriate behaviour.
Venod Skantha is on trial in the High Court at Dunedin for murdering Amber-Rose Rush and threatening to kill four others to cover up the crime.
On 3 February last year, the teenager was found dead in her bed by her mother in the Dunedin suburb of Corstorphine.
She had suffered stab wounds to her neck and throat, and there had been an attempt to slash her throat.
Her death and the subsequent suspected suicide of her mother sparked a torrent of vitriol online, which Justice Gerald Nation addressed before the jury was selected this morning.
"In this case I'm aware of significant posts that were placed by a number of people on the social media platform the Dunedin News Facebook group soon after the victim's death. Not surprisingly a number of those posts were intensely emotional, on occasion some comments included statements that were factually incorrect, others showed feelings of prejudice towards the defendant."
Justice Nation told potential jurors they would need to stand aside if they participated in any such online commentary.
More than 100 potential jurors were summonsed to the Dunedin Law Courts for the trial, with a jury of 10 men and two women selected.
In opening the Crown's case, prosecutor Richard Smith, told the jury Miss Rush and Mr Skantha shared a text exchange on the day of her death detailing alleged inappropriate behaviour by him.
"Those allegations were in essence three-fold: providing minors with alcohol; 'touching up' young persons without consent, as she put it; and offering minors money for sex.
"The crown says it is clear the defendant had a motive to kill Amber, so as to prevent her from making those serious allegations which at the very least, the crown says, were likely to have been career ending."
The crown claims shortly before midnight Mr Skantha was driven to Miss Rush's home by a teenage associate.
Mr Skantha entered the house using a spare key and went into Miss Rush's room, smothering her with a pillow while he stabbed her and then took her phone containing the incriminating conversation, Mr Smith said.
"The crown says the defendant had a very strong motive for wanting Amber Rush dead - to silence her," he said.
"Amber had been quite clear in the text message conversation with the defendant on the evening of 2 February, 2018, that she intended to take her allegations of inappropriate behaviour by the defendant to both his employer and the police."
At the time Mr Skantha was working as a junior doctor in the emergency department of Dunedin Hospital.
The crown claimed after stabbing Miss Rush, Mr Skantha was then driven to Blackhead Quarry where he disposed of the phone, and then to his girlfriend's house in Balclutha where he got rid of other evidence, including his bloodied clothes.
Defence lawyer, Jonathan Eaton QC, said the defence did not need to prove Mr Skantha's innocence.
"The defence case is that the evidence that the crown rely upon is either untruthful, that is to say it is lies; unreliable, meaning to say it's not safe; or otherwise there's an explanation inconsistent with the explanation the crown has seized upon."
While the defence accepted the how of Miss Rush's death, it did not accept the who as alleged by the crown.
"The defence do not dispute that Amber Rush was killed in her own room by a fatal wound inflicted by an intruder," Mr Eaton said.
"An intruder who knew how to get into the house in the dark of night. An intruder who knew where her bedroom was. That intruder was not Venod Skantha."
The court this afternoon heard evidence from the first witnesses, including written statements from Miss Rush's deceased mother.
The trial is expected to last about a month with more than 90 witnesses to be called.