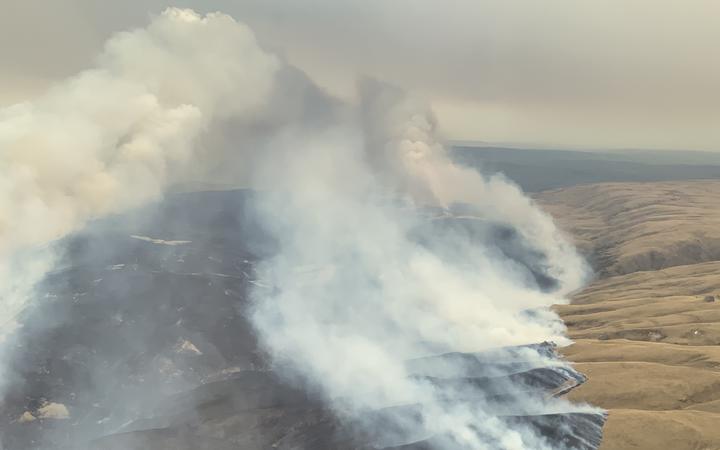 A photograph of the fire taken at about 4pm on Saturday. - Photo: Supplied / Fire and Emergency NZ
A Central Otago fire that started near Te Papanui Conservation Park is moving fast, fanned by strong winds.
It started this morning and has burned through 2400 hectares of mostly tussock and scrub.
Hot conditions and winds of up to 50km per hour have caused the blaze to spread on to land owned by the Dunedin City Council.
Eight helicopters with monsoon buckets are being used with ground crews sent in where conditions allow.
So far no homes are threatened but Fire and Emergency says it is working with police, St John and Emergency Management personnel in case evacuations are needed.
Strong winds and dry conditions are forecast to last until the early hours of Sunday morning.
The cause of the fire has not yet been confirmed.
Smoke from the fire is visible over a large area of South Otago. People who are sensitive to smoke are being advised to stay indoors with windows and doors shut, and to turn off air conditioning.
The 21,000ha park is managed by the Department of Conservation as a "remote experience area" and was opened in 2003.
A DOC spokesperson today declined to comment on the fire, saying DOC will comment on Monday.
The area open to the public is popular for walking, mountain biking, horse trekking, cross-country skiing and hunting.
Te Papanui provides a home for a huge variety of native plants and animals, including 547 species of native insects, as well as the narrow-leaved snow tussock and many rare wetland plants.
The park also fulfils a significant role to the people of Otago region, protecting 60 percent of Dunedin's water catchment area.
Meanwhile, firefighters are also dampening down hot spots of a fire which continued overnight at Bucklands Crossing in Mountain Rd, near Waikouaiti.
The blaze covers an estimated 16 hectares of felled pines.
A spokesperson said the crews are in the final stages of putting out the fire.