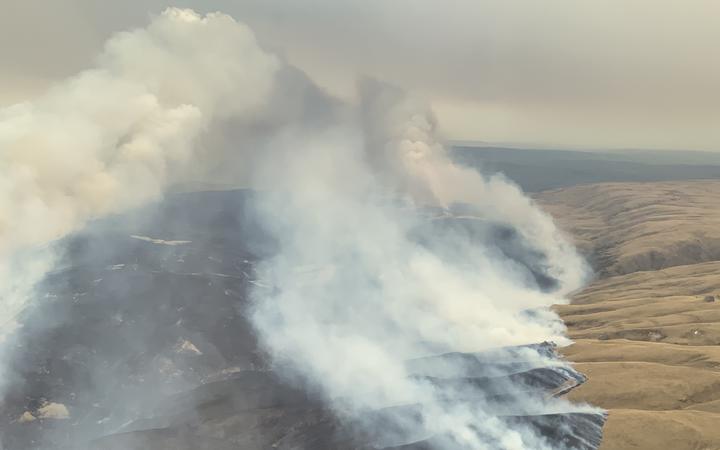 A photograph of the fire taken at about 4pm on Saturday. - Photo: Supplied / Fire and Emergency NZ
The effort to bring a large scrub fire in Central Otago under control was scheduled resume at first light this morning.
Helicopters and ground crews are on standby, waiting to tackle the blaze, which burned overnight.
Emergency crews are assessing the state of the fire, which began near the Te Papanui Conservation Park yesterday morning and spread to adjoining land owned by the Dunedin City Council.
There has been overnight rain but low cloud is preventing aerial crews from getting a good look at its current state.
Up to 10 helicopters at a time with monsoon buckets battled the blaze all day yesterday as the fire burned through 2800 hectares of scrub and tussock.
It started near Te Papanui Conservation Park yesterday morning, fanned by 50 kilometre an hour winds and hot weather.
One home has been evacuated as a precaution but so far no homes are under threat in what is a remote and hard to reach part of the country.
Those sensitive to smoke have been told to stay inside with their windows shut.
Fire and Emergency said it was working with police, St John and Emergency Management personnel in case further evacuations were needed.
It's hoped showers and light winds forecast for this morning will help with extinguishing the fire today.