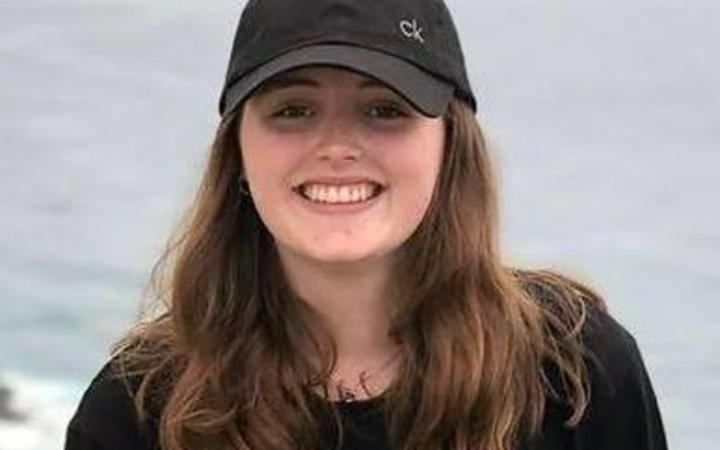 Grace Millane was buried in the Waitakere Ranges. - Photo: Supplied
The man accused of murdering Grace Millane told police he confessed about burying the British backpacker so her family could have closure.
The 27-year-old is on trial in the High Court at Auckland, charged with murdering Ms Millane after a Tinder date in Auckland's CBD last December.
It's not disputed the young woman, who went missing on her 22nd birthday, died in his CityLife apartment and he later buried her in the Waitakere Ranges.
But the accused initially lied to police about the last time he saw her; saying they'd parted ways on Victoria St after their Tinder date the night she disappeared.
In his second formal interview, he told Detective Sergeant Ewen Settle he choked Ms Millane with her consent before falling asleep and waking up to find her lying dead on his floor.
He then admitted cleaning his room, throwing Ms Millane's belongings in a park bin and burying her body in a suitcase in the Waitakere Ranges.
Mr Settle pressed the man about details in his story, asking him why he didn't call 111 when he woke up to find the young woman bleeding from the nose.
Accused: "I dialled 111 but I didn't hit the button because I was scared of how bad it looked."
Mr Settle: "Why did you think it looked bad?"
Accused: "Because there was a dead person in my room. I thought it looked terrible. I was in utter shock that that had happened and waking up to it was like, holy shit."
Mr Settle then asked the man why he had bought the suitcase the following day.
Accused: "Because I was freaking out and then I was trying to consider whether just dying in the room as well would be a better option."
Towards the end of the interview, Mr Settle told the man he had a short series of questions for him.
Mr Settle: "When you put her in the suitcase, when she was naked, did she have any injuries?"
Accused: "Not that I can remember. I was just panicking."
Mr Settle: "Did you inflict any injuries on her that caused her to die?"
Accused: "Uh, no."
The man's lawyer Ian Brookie then interrupted the questioning.
"Sorry, I'm just concerned that that might be a bit of a difficult question to answer for this person, given what he's already said about the activities they were engaging in during the sex," the lawyer said.
Mr Settle said he understood before turning to the defendant to tell him they would leave soon and he would take the police to where he buried Ms Millane.
Mr Settle: "She will likely be exhumed tomorrow at some point and after that a pathologist, a specialist doctor, will perform a post mortem. They're very skilled at establishing people's causes of death."
The detective then asked the man if he murdered Grace Millane. "No," was the reply.
The defendant was then arrested and read his rights but before they leave the interview room Mr Brookie says he'd like to ask his client two questions.
Mr Brookie: "To your knowledge did Grace die while she was in your company?"
Accused: "To my knowledge, I would say yes."
Mr Brookie: "At any time and at any stage did you intend to cause her death?
Accused: "No."
The lawyer then asked the man why he was telling the police what he had said to them that day.
"Because of her family. Because I want her family to know it wasn't intentional but I also want her family to have closure.
"The other night when I was questioned by the police I was still shocked and I apologise for misleading. So yeah, it's basically so that her family understand that it wasn't an intentional thing."
Ms Millane's mother Gillian shook her head, leaning forward in her seat in the public gallery, while David Millane stared unblinking at the video as it was played to the court.
The court has heard Ms Millane's cause of death was pressure to the neck and she had no defensive injuries to her hands or male DNA under her fingernails.
Dr Samuel Rawlings, who conducted a voluntary medical examination of the accused the night of his second police interview, was called as a Crown witness today.
Dr Rawlings told the jury the accused had small superficial scratches on both of his hands and several small bruises to his chest.
This afternoon the Crown called Detective Inspector Scott Beard, who oversaw the missing persons inquiry which turned into a homicide investigation.
He told the court police had never located the belongings Ms Millane had the night she disappeared.
Mr Beard said it was three days before they tracked the Albert Park bin contents to a rubbish tip in East Tamaki.
It was likely they were buried under 10 metres of soil, so a decision was made not to search the area, he said.
The court also heard police had tracked cellphone polling data to the Waitakere Ranges before the accused told authorities where Ms Millane's body was.
"Our whole investigation was to find Grace and we would have found her because we were right in that area."
Mr Beard said at its busiest point, when Ms Millane's body was found, there were about 70 police officers working on the case.
Christchurch-based doctor Dr Clare Healy told the court observing someone being strangled may see a variety of visible symptoms.
Dr Healy was called as the Crown's last expert witness.
She said it might take as little as 10 seconds for someone being strangled to lose conciousness and between one-and-a-half and 6 minutes for them to die.
She said a person witnessing someone being strangled might see a "range" of visible signs - including gasping, a reddening face and convulsions.
The Crown has now closed its case against the accused. The trial will resume on Monday morning.