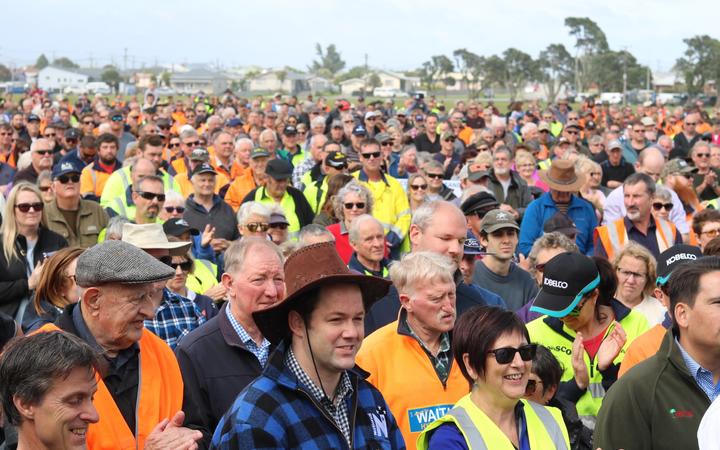 These men taking part are: (left to right) Kevin Frank, Watson Benzie and Graham Ford. - Photo: RNZ / Katie Todd
Thousands of farmers, miners, and forestry workers and West Coast residents have gathered in Greymouth this morning, for a rally against what they say are 'one size fits all' government policies.
They are standing against the banning of new mines on conservation land, blocks to electricity generation proposals and new freshwater regulations, among other policies and proposals.
People arrived at Messenger Park in work trucks and dressed in gumboots, work clothes and helmets.
Among those speaking at the event are local MPs, Grey District mayor Tania Gibson, Westland District mayor Bruce Smith, local iwi representatives and National Party leader Simon Bridges.
The rally opposes a raft of government policies and proposals those in attendance said are well intended but ill considered, and are threatening their way of life.
Speakers said there's now a lot of economic uncertainty in the region and are asking the government to listen to them and protect the industries that they hold dear.